Pulling power – 11 Bugatti Veyrons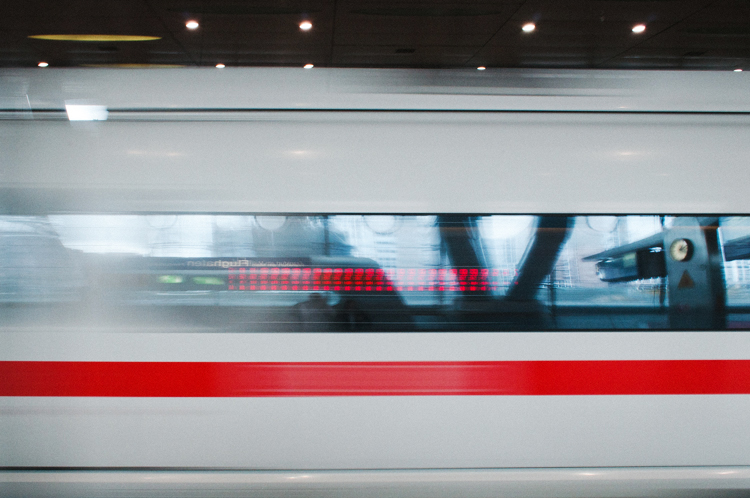 A notable characteristic of the ICE trains is their colour design, which has been registered by the DB as an aesthetic model and hence is protected as intellectual property. The trains are painted in Pale Grey (RAL 7035) with a Traffic Red (RAL 3020) stripe on the lower part of the vehicle. The continuous black band of windows and their oval door windows differentiate the ICEs from any other DB train.The ICE 1 and ICE 2 units originally had an Orient Red (RAL 3031) stripe, accompanied by a Pastel Violet stripe below (RAL 4009, 26 cm wide). These stripes were repainted with the current Traffic Red between 1998 and 2000, when all ICE units were being checked and repainted in anticipation of the EXPO 2000.The "ICE" lettering uses the colour Agate Grey (RAL 7038), the frame is painted in Quartz Grey (RAL 7039). The plastic platings in the interior all utilise the Pale Grey (RAL 7035) colour tone. Originally, the ICE 1 interior was designed in pastel tones with an emphasis on mint, following the DB colour scheme of the day.
The ICE 1 trains were refurbished in the mid-2000s, however, and now follow the same design as the ICE 3, which makes heavy usage of indirect lighting and wooden furnishings.The distinctive ICE design was developed by a team of designers around Alexander Neumeister in the early 1980s and first used on the InterCityExperimental (ICE V). The team around Neumeister then designed the ICE 1, ICE 2, and ICE 3/T/TD. The interior of the trains was designed by Jens Peters working for BPR-Design in Stuttgart. Among others, he was responsible for the heightened roof in the restaurant car and the special lighting. The same team also developed the design for the now discontinued InterRegio trains in the mid-1980s.